We manufacture catering trailers suitable for all catering applications.Our trailers are built with passion based on years of experience and listening to the customer needs.
We guarantee quality of workmanship and our flexible team is prepared to deliver personalized orders on an individual basis.
Our trailers are built using the latest lightweight laminate technology and based on German quality, using the components from such companies as ALKO or KNOTT.Our modern trailers are used as mobile commercial facilities.
They are ideally suited for:
– selling fast food,
– using in the confectionery/ ice cream business,
– various forms of street trading: What is new at our company? See the photo gallery!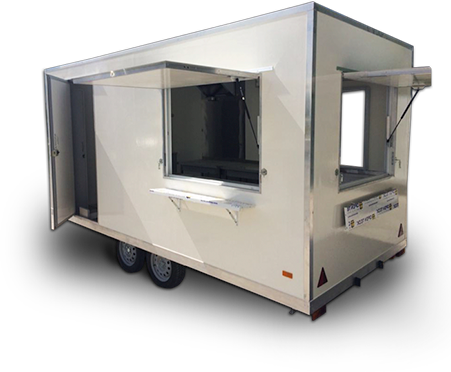 Width 6ft 11″ (2.1m)
Length 8ft to 20ft (2.50 to 6.0m)
 frame made of hot-dip galvanised box sections
4 supports, tow hitch and ALKO or KNOTT axle
removable tow bar
laminate liner (Lamilux), 33 mm thick XPS core
floor made from water resistant plywood covered with PVC flooring (with elevated abrasion resistance)
hardware made of aluminium profile
vehicle lights in accordance with the traffic regulations
sanitary area with clothing locker, including sinks, taps, water tanks and heater
double-sided cabinetry including worktops (MDF or stainless steel)
electrical wiring system and LED lighting
heavy duty ALKO jockey wheel
single hatch
4 ALKO corner steadies
ALKO Euro axle(s)
13" wheels
 recessed road lights
door
overrunning brake and hand-brake
additional serving hatch
lower masking strips and upper plinths
graphic design and trailer wrapping with film
selection of specific catering equipment
low own contribution
no fixed costs for rent
no property management problems
mobility, possibility of running business in various places
We have another piece of important and good news for you: people who work with us are given the opportunity to get professional support. We will advise you how to get started and how to boost your business to make it flourish. See the photo gallery!
To Request a Quote Simply Complete The Form Below & Submit